Taunton's Most Renowned Hog Roast Caterer
When you are planning an event, it can be difficult to know where to start when it comes to organising the food and deciding which is the best option for your budget. Let the Hog Roast Taunton team take the stress out of planning the food for your event by doing the hard work for you. All you have to do is decide which delicious dishes you would like to be included on your menu, and how you would like the food to be served, and you can leave the rest to us.
For over a decade, we have been providing hog roasts and other catering services in the Taunton area. Our experienced chefs know how to prepare perfectly cooked, aromatic and succulent meat and serve it alongside a range of exciting side dishes and food platters.
Our unsurpassable hog roasts, varied menus, and superb customer service make us stand out from the crowd in mobile event catering in Taunton. We will arrive at your venue several hours before your food is due to be served in order to slowly cook the meat and freshly prepare all of your dishes. Your food will be ready right on time, and beautifully presented for your guests. Everyone will receive an incredibly warm welcome from us and attentive service throughout your event. We will also discreetly deal with all of the cleaning up afterwards, so you won't have to lift a finger!
Catering for any size event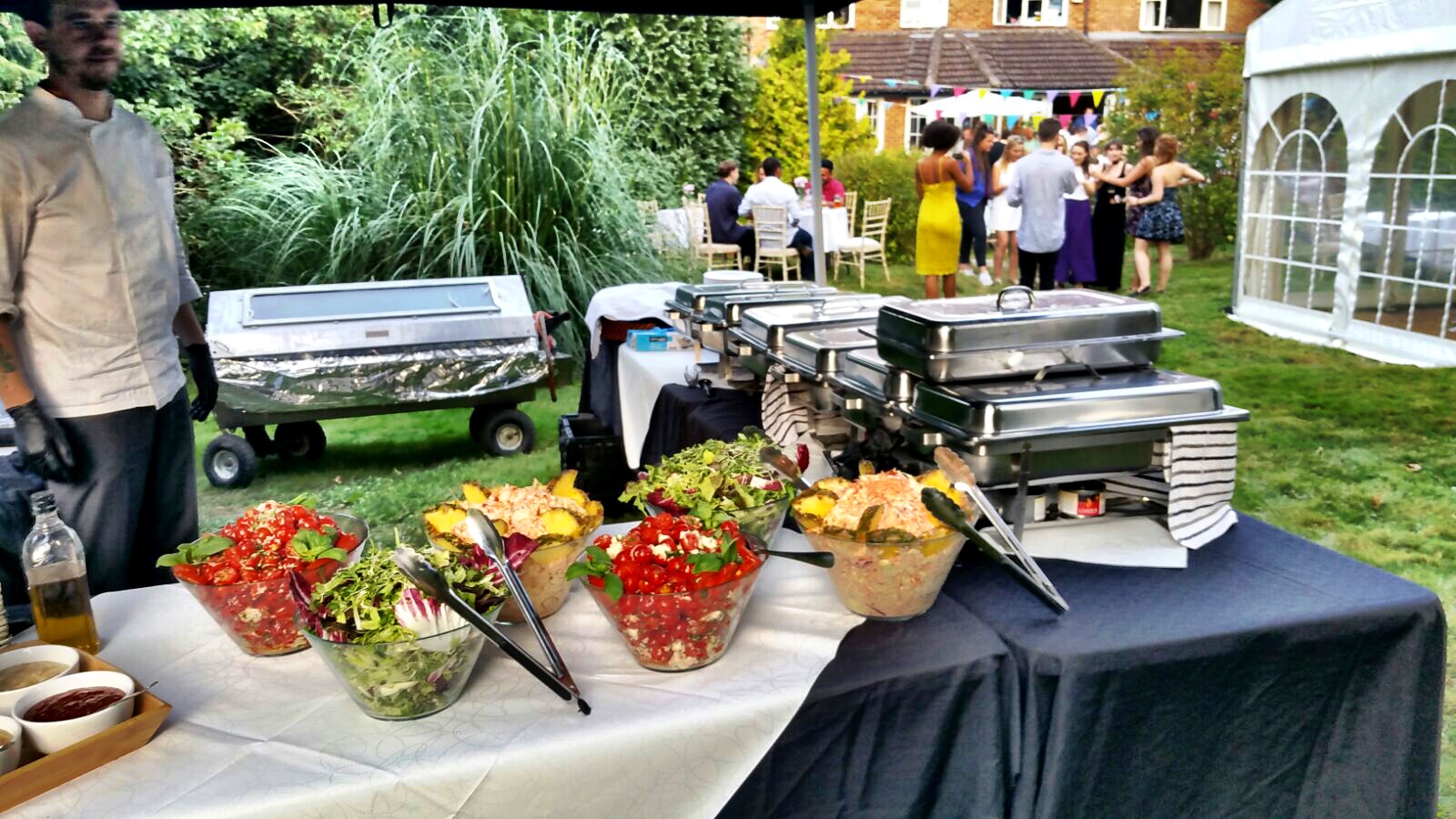 Our cutting-edge catering equipment allows us to cook a range of different meats to perfection, including lamb, beef and chicken, either slowly spit roasted or in a barbecue style, whichever you prefer. We are also to prepare a whole host of vegetable and potato dishes whilst the meat is cooking, making us a fantastic catering option if you want freshly made hot food in any location!
As well as pleasing meat lovers, we are very considerate when catering for different diets, and we offer lots of tasty meat, dairy and gluten-free alternatives across all of our menus. We are also continually expanding our menus and packing them full of diverse dishes that are inspired by global cuisines, as well as our own modern interpretation of classic British flavour combinations. You can choose from a varied assortment of salads, seasonal side dishes, 3-course meals and canapes. All you need to do is take a look at our menus page to select which mouth-watering dishes you would like to feed your guests with, and we will create your ideal menu.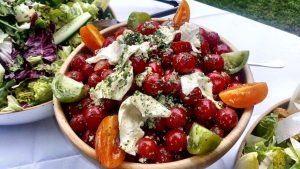 Here at Hog Roast Taunton, we make all our food from the highest calibre of fresh ingredients, and source the best available local produce. We are firm supporters of local food producers, and we love showcasing the best ingredients that Taunton has to offer in our own menus.
Why We Love Taunton
Taunton is a historic town overlooking the Blackdown Hills and offers lots of characterful buildings and interesting shops. It is a lovely place to live, visit and work, and the Hog Roast Taunton team feel privileged to be providing our unique catering services here.
We have been providing our superb hog roasts and high-quality mobile catering in Taunton for more than 10 years and we have loved every minute of it. Every day is different for us here at Hog Roast Taunton because we are asked to cater for such a wide variety of events in the area from romantic wedding receptions to private parties, corporate events and local festivals.
Hiring a Hog Roast Machine in Taunton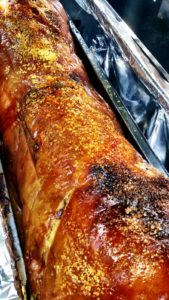 We offer outside catering for all event of all sizes, and we will even tailor our menus and services to suit you and your guests. We can arrive at your venue at any time to suit you, and leave no rubbish when we leave. If you'd prefer, we also offer machine hire services, we'll drop off the machine, give you a quick tutorial and you'll be on your way cooking perfect hog roasts in no time.
Hog Roast Taunton have been serving hog roasts for over 26 years, so with that amount of knowledge you can feel rest assured that your event is safe in our hands. So next time you want to book a party, just fill in an enquiry form or pick up the phone.